Humans can communicate their feelings but the voiceless stray animals can't express and cry themselves to death on streets
About The Founder Of Awaaz : Voice Of Stray Animals
Mr Amit Pathak, founder of Awaaz : Voice of stray animals in an interview told us that he's been volunteering individually since the age of 19 before he decided to launch Awaaz. His motivation comes from an incident when he saw a black puppy Bageera injured in his neighbourhood  who instilled a sense of responsibility. The first thing he did was to feed him with milk and biscuits. Then he started dialling numbers finding for the nearby NGOs for the dog's treatment. Even after proper medical care & frequent follow ups, in a few days at 5 am in the morning, the puppy passed away due to which he went into extreme depression. Now it's been 4+ years for their existence & there's no turning back since then. Humans can communicate & express their feelings. But what about the voiceless stray animals who cry themselves to death. Awaaz aims to help each and every animal in distress. Their team aims to reach out to many more stray animals and save their lives. They are solving the problem of who to contact when one sees an animal in trouble by spreading more and more awareness on the same. That's how the journey started.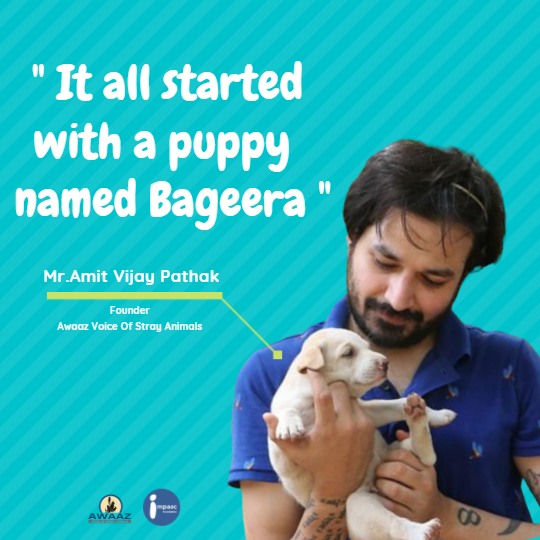 Awaaz Voice of Stray Animals is a non-governmental organization ( NGO) has been working for the welfare of stray animals from Jan 2017. They provide basic first aid, medical assistance to critically injured/wounded animals. They run two ambulances especially to provide first aid treatment and cover areas between Vile Parle (E) – Goreagoan (E), Bandra west and Malad west. They also run a rehab facility for critical cases where the animal is sent to a private clinic for treatment and a follow-up is done till the animal recovers. They have successfully treated many animals and many have been treated on the spot with repeated follow-up treatment. During the first lockdown lockdown apart from providing medical assistance, they also took feeding as part of our daily activities. They fed more than 40,000 animals during the period and two teams were deployed to get the job done. Covid-19 left them with lot of challenges, one of the major was and is the shortage of funds, they utilized majority of funds raised during the first wave and were left as reserve funds were used during our second lockdown. As part of our feeding drive they cover areas such as Uttan, Gorai beach, aarey and other parts of Mumbai city.
Awaaz Voice Of Stray Animal R/3/13, Bhai Bhandarkar Nagar, Part-1, Capt.P. pathe Marg Cuffe Parad, Colaba, Mumbai 400005 Help Line 79000 94345​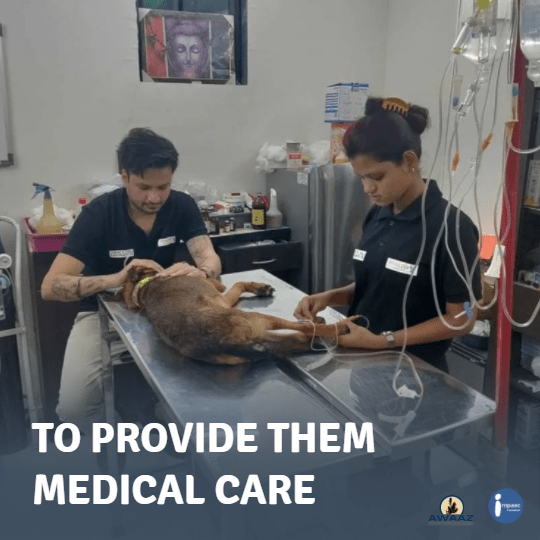 Every animal finds a home, sick strays find medical care, food & love through in Awaaz rehab center. 40,000+ animals have been successfully fed in the Covid pandemic. But COVID-19 left them with a terrible shortage of funds. They have no source of income for helping more strays. They could choose to live a normal life but became the Awaaz of the dying animals. They need the total amount mentioned above in order to protect the stray animals, need funds to run their rehab center, manage an effective team and their livelihoods, the overall medical cost, arrange for food, pay for fuels and electricity and for regular follow-ups. Just imagine handling all of this via funding without any source of income. It's super hard right?
Awaaz has an altogether 18 team force who are constantly working for the welfare of stray animals. The Covid 19 has impacted adversely on their flow of donations, they have lost many supporters, they are running short on funds and they are in terrible need of funds. You can support them right away. Come forward and support them in this noble cause. It's important for us to realise our responsibility towards other living beings with whom we are sharing their planet and their environment. It's really difficult on the NGOs part to help and take care of all the needy on just a bare minimum cost. That's why we together ask you for your humble and appreciated support.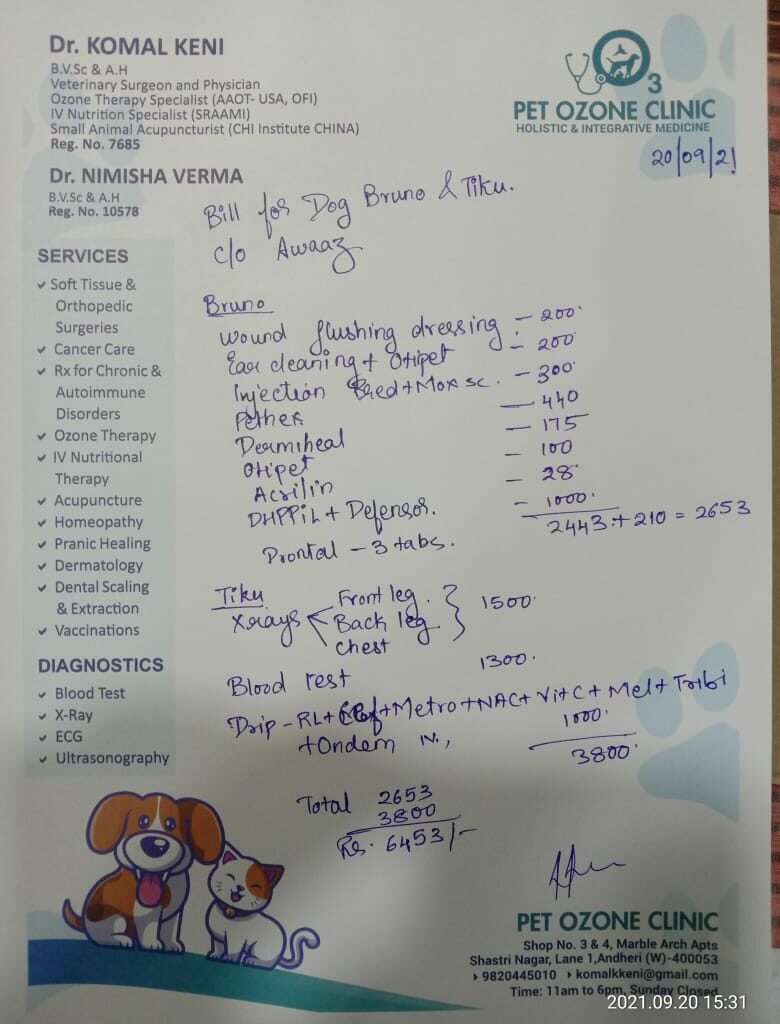 | | |
| --- | --- |
| Fixed Expenses | Total Cost |
| Rent of Rehab Facility | Rs 30,000 |
| Salaries Amount (not sponsored) | Rs 1,00,000 |
| Medicine Cost | Rs 50,000 |
| Food | Rs 25,000 |
| Variable Expenses | Total Cost |
| Private Vet visits (differs from case to case and number of cases) | Rs 50, 000 |
| Diesel, Petrol and CNG (Differs as per the call and rescue frequencies. We run four vehicles – Two Diesel, one petrol and one CNG) | Rs 30,000 |
| New follow up van : Maruti ECO CNG |   |
| Total Monthly Expenses | Rs 2,85,000 |
| Yearly Expenses | Rs 3,420,000 |
| Total Amount | Rs 4,071,800 |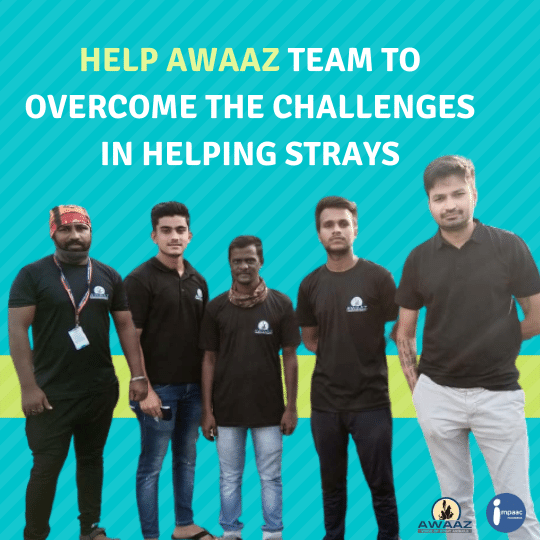 Awaaz Trauma & Rehab center Sur 32, Hissa no 40, Erangle opp mad marve khadi, madh Malad West Pin 400095 Land mark:- next to Manthra Residency hotel
What is Impaac Foundation?
Impaac for a real dynamic Impact! An impact startup passionate about solving global challenges through social entrepreneurship! We here at Impaac serve folks to get aware about the needs of our planet. We holistically cover people, pets, plants, the environment and societal constituents. Our aim is to contribute and take a step ahead for the welfare of the society. Combining technological skills with our social responsibilities is our unique trait. Read More
We are India's most trusted and 1000% transparent crowdfunding platform, with a vision to create a social impact. Our unique model allows people from across the globe to donate towards raising funds for products required by NGOs and charities in India, which are then delivered to them by us.
5000+ Community Members
200+ Achieved Campaigns
100+ Volunteers
50+ Locations
10+ Years Of Dedication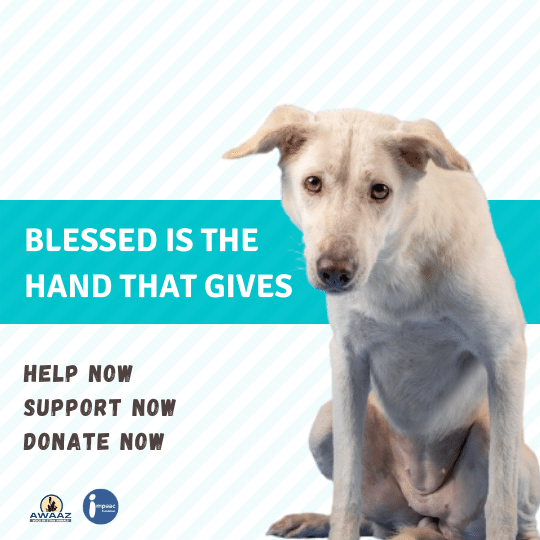 You can even donate the amount you spend on pizza. Even a single penny matters! The next time you see any animal in need on the roadside, don't turn away from their AWAAZ and immediately report to a nearby NGO. Let's together stand & support these selfless beings. 
Impaac Foundation has already taken a step further. Have you?