About us :
Khayaal is a youth led Non-Governmental Organization focused on providing formal and extracurricular education to kids who can't afford it, helping them build a secure future for themselves.
Our Education Campaign:
Over the years we did many campaigns but closest to our hearts is the education campaign, wherein we started to teach children who don't have access to education. We strongly believe that education opens the doors for innumerable opportunities, but sadly not all children out there get it. We decided to be their guide because "Jab padhega India tabhi toh badhega India."
Our curriculum focuses on providing a holistic development to the kids wherein we conduct activities to improve their personal and inter-personal skills.
The Way Forward:
BACK-TO-SCHOOL CAMPAIGN.
Our Back-To-School campaign is our next step into providing educational necessities to our kids.
Here's why : 
"During my workshops with the kids I noticed they don't have a bag pack to carry their books and they use paper bags and sometimes random cloth bag to get their books, when it rains the books get wet.
They have no option but to use old dirty plastic bottles to drink water.
They are constantly struggling to have stationery, a basic notebook to write and learn.
I remember as a child how excited I used to be to go to school with my matching bottle, bag and stationery of my favourite cartoon character. Whereas someone struggles so much to have the most basic of these supplies.
There were so many young brilliant minds whose education was being compromised because of their disadvantaged position of not even having a notebook to write into.
So here we are with "BACK TO SCHOOL" an effort to ensure these kids have all the supplies and stationery they will need before school reopens.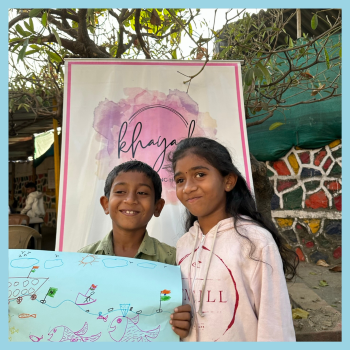 YOUR DONATION = SOMEONE'S FUTURE
But to be able to provide them the school hamper and the stationary they will need, we need your contribution.
Your generous contribution will help provide underprivileged kids with essential stationery and school supplies, empowering them with the tools they need to learn and succeed throughout the year.
For every penny you donate, you will be helping a kid realise their dream. You will be donating:
📌 School Bagpack
📌 Water Bottle
📌 Pencil Box
📌 Tshirt
📌 Colouring Book
📌 Colouring Set
📌 Pens and Pencils
📌 Erasers
📌 Sharpener
📌 Ruler
📌 Rough Books