Meet Saniya From Strong Little Paws
Saniya is an eighteen year old animal welfare worker with over a hundred animals under her care. She's raising funds for stray animals under her care and their medical expenses. She manages whatever she can herself but as the number of animals increases, she turns to the community for support.
She rescued her first dog when she was fourteen years old. She just appeared outside her society, somehow. She was an orphaned, cold & hungry puppy. She'd lost all of her family during the winter rains & was being attacked by the street dogs outside her society. Saniya picked her up & built her a cardboard box home, shifted her to her society's main gate & kept her there for about twenty days post which she was adopted. Throughout that period, she would wake up at five every morning to check up on her & put her to bed at 11:30, without fail. That was probably the first time in her life that she was voluntarily waking up that early, when it was that cold & she was extremely happy about it. Anyway, when she was with Saniya for that twenty day period, Saniya had no idea as to what she was supposed to do, so she was added to a bunch of groups. In those groups was, tremendous, heart wrenching pain. She saw images of dogs in so much pain pop up every ten minutes from all over the city & it kind of just opened her eyes up to this part of the world that we ignore so easily even though it's right in front of us. Ever since, she started noticing the dogs near her house, she saw them everywhere she went, and most of them were in terrible conditions. She started helping them slowly. One dog at a time! On a larger scale, she started feeding these dogs during Covid, but this was where it actually began, when Olivia ended up at her society's gate.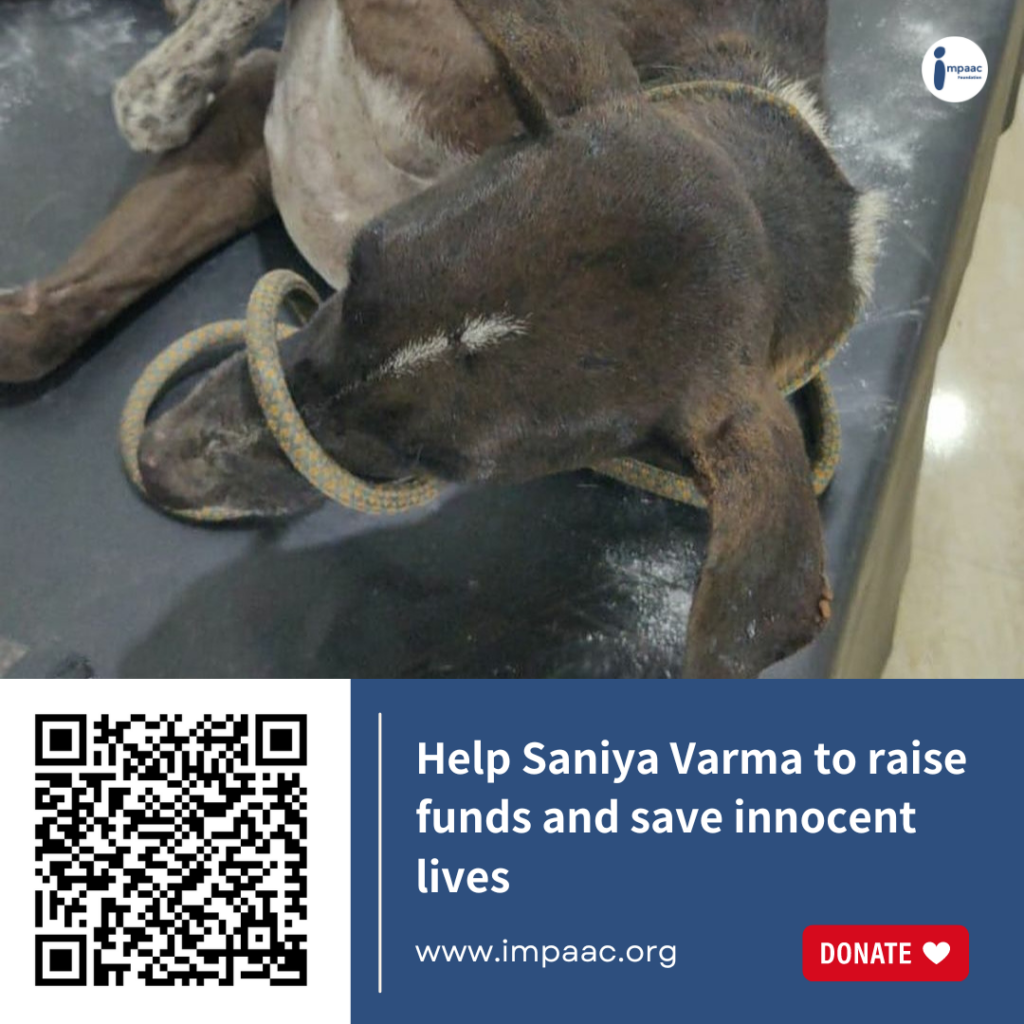 Currently, Saniya feeds 150 dogs on a daily basis & is responsible for their medical health too. She helps sterilise & vaccinate dogs, she has helped more than 75 dogs in their spays, this helps in preventing painful deaths for little puppies only because they're forced to live on the streets. She has helped vaccinate various dogs, which in turn saves them from viral and life threatening diseases like parvo, distemper & rabies. Rabies being eliminated also helps us in various other ways. She rescues dogs that need it. While she likes to stay focused in her sector & noida, she can usually never deny help to an animal in pain, so she helps dogs in the Delhi NCR region. Some of her rescues only in 2022 include a sexually assaulted eleven year old street dog, the amputation of a poor six year old dog who was partially paralysed in one of her hands because of a reckless car, a puppy thrown off a six feet tall wall, now adopted and thriving, the twin tower rescue, helping six puppies from drowning in heavy monsoon & raising them ever since, helping a dog whose nose broke because he was beaten by a rod, various distemper infected dogs etc. 
She prefers to call her as young & naive but the vision is to not stop. It is to turn strays – those who don't belong or are homeless to community dogs- those who are a part of our community. She'll help as many dogs as she can. Most importantly, she never wants to say no to a rescue. She strongly believe that every life matters & she'll go to the ends of the earth to make sure she's doing her bit & helping these voiceless beings, being their voice & making their life easier.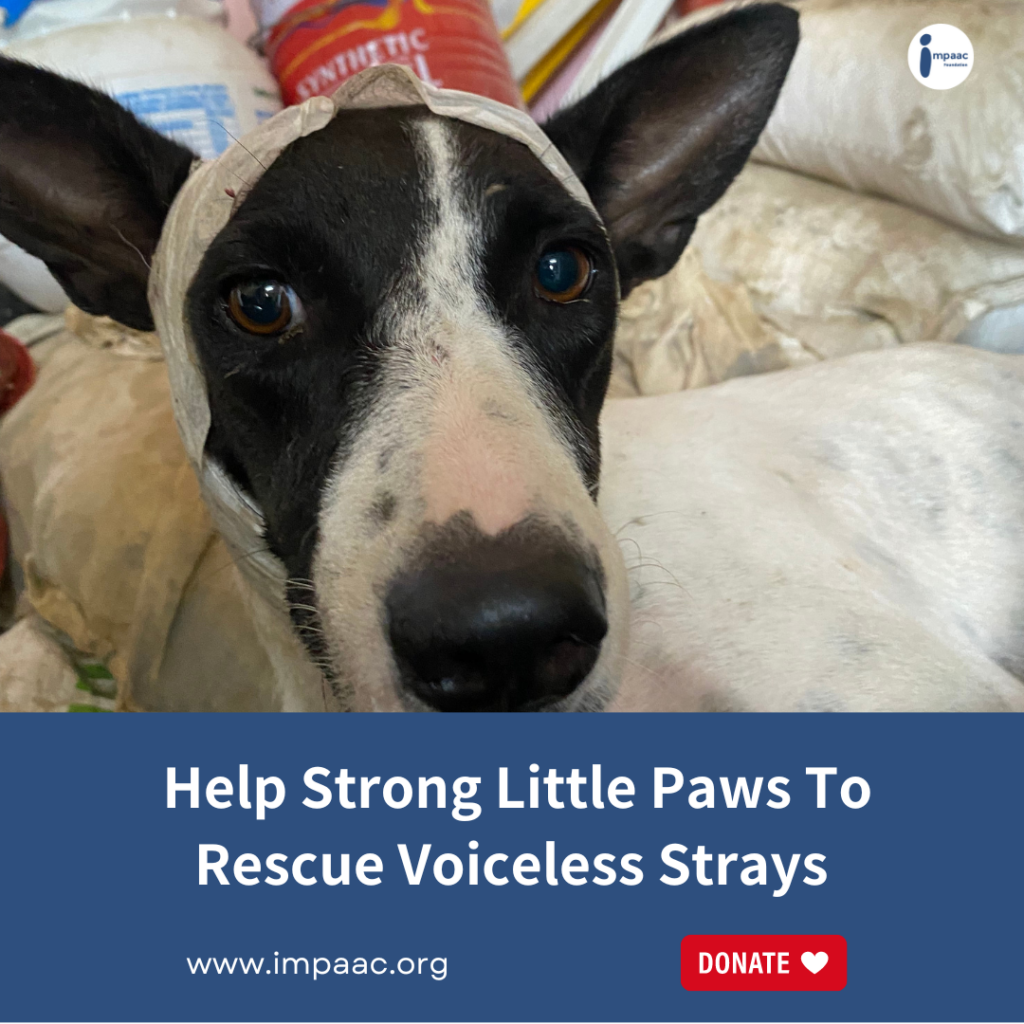 Saniya is an eighteen year old college student at Kamla Nehru College, Delhi University. Since she's a student, she doesn't earn. However, dogs are suffering NOW. She cannot wait to start earning and then help these babies. When she rescued on a smaller scale, her parents funded it, but as her initiative grew, they couldn't anymore. Animals are in need of help every hour of every day in some or the other corner of our country, she cannot help them all, but she wants to help as many as she can. She can only do it, if she has enough money to. Operations, medical stays, medications all cost a lot, and while, not every individual can start rescuing animals, it's a very difficult job and she understands but, they can help the ones who do it. After all, every life matters, because every heart that beats deserves a fair fighting chance. She gives her 100% to make life easier for these kids & all she need is a little support, because she never wants to say no to an animal in need, she never wants to say, if she could afford better medical care, maybe she could save this dog. They already struggle so much for the most basic needs, if she herself going through a little trouble & helping them while they're in pain saves their life, she wants to give them that fair fighting chance & she needs her fellow humans to help me do it!
There are so many of them, but some include her first rescue, who if she hadn't helped would've died within days, but here she is today, living life like a queen. There's also bulbul, her eleven year old stray dog who was sexually assaulted or raped by drunk construction workers. If she hadn't picked her up when she did, she would still be living in that pathetic unending hell, but today she's thriving at loony tails, a shelter in Gurgaon where Saniya has sent her. 
Funding is becoming a huge problem for her and your contribution towards helping these poor animals will literally save their lives. You can help save these babies by even the smallest donations. Click on the donate button and share this page with your friends and family, it'll mean the world. We will try my best to keep you updated on expenses and billings from this campaign.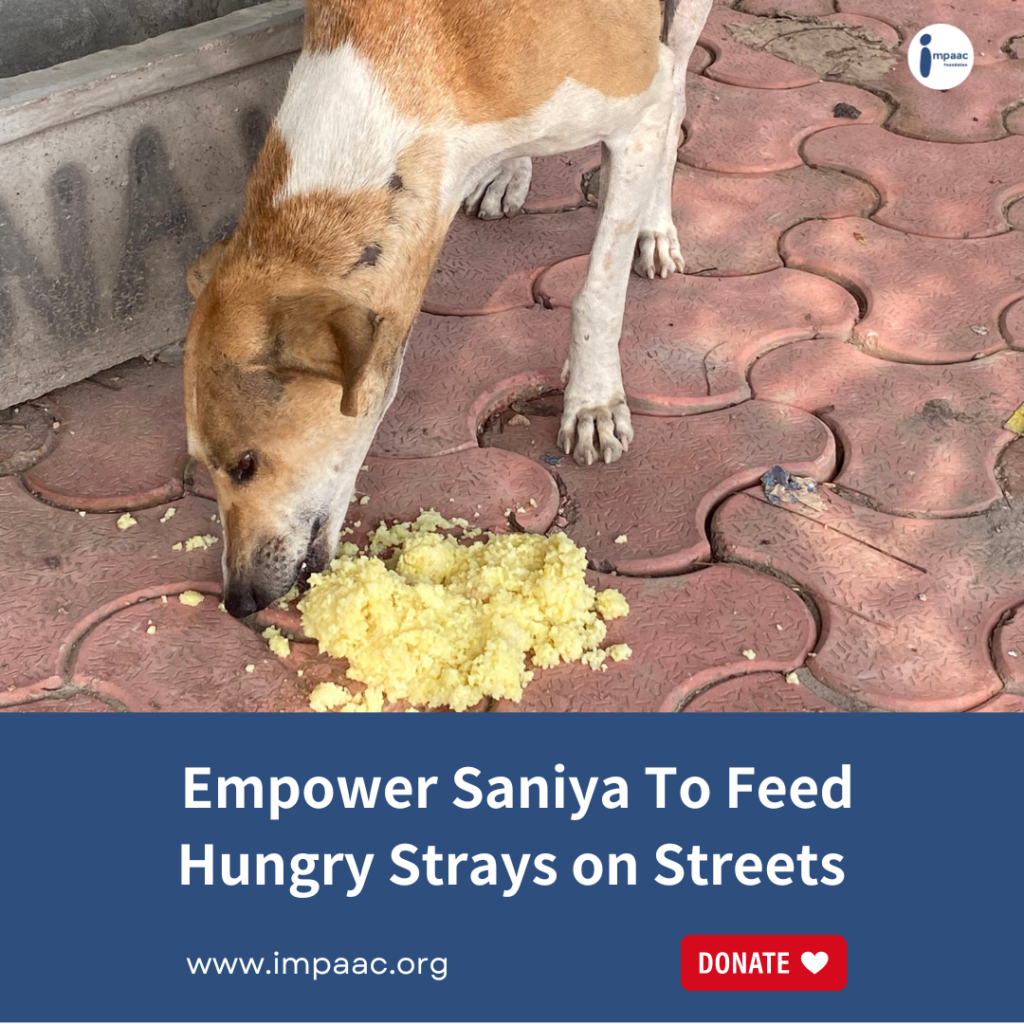 What is Impaac Foundation?
Impaac for a real dynamic Impact! An impact startup passionate about solving global challenges through social entrepreneurship! We here at Impaac serve folks to get aware about the needs of our planet. We holistically cover people, pets, plants, the environment and societal constituents. Our aim is to contribute and take a step ahead for the welfare of the society. Combining technological skills with our social responsibilities is our unique trait.
We are India's most trusted and 1000% transparent crowdfunding platform, with a vision to create a social impact. Impaac Foundation is a non-profit, technology-driven crowdfunding, social networking platform which focuses on bridging the gap between the people who are looking for help & the people who are willing to help. We are building a social community that depicts the values of social responsibility & help anyone, anywhere, anytime. We provide viable solutions to NGOs for different causes to run their system smoothly & effectively with non-profit intentions.
Truly NO Charges
Trust Guaranteed
24*7 Assistance
1000% Transparent
Technical Support
Seamless Donations
You can even donate the amount you spend on pizza. Even a single penny matters! The next time you see any animal in need on the roadside, don't turn away and immediately report to a nearby NGO. Let's together stand & support these selfless beings.