A single day is not enough to honour all that a mother does for her children, every day one should be respectful and considerate of a mother's struggles and sacrifices for her children. Today we are honouring some women who have dedicated their lives for the betterment and improvement of the voiceless animals' lives. They care and nurture them just how a mother would for her children. They have taken the responsibility of many voiceless animals and try to help as many as possible to make this world a happy place. A mother's contributions in a household are waived off as a mere duty but Impaac wants to spread awareness that anything a mother does is not just her duty but her kind, loving, caring and compassionate nature.
Pet Mommies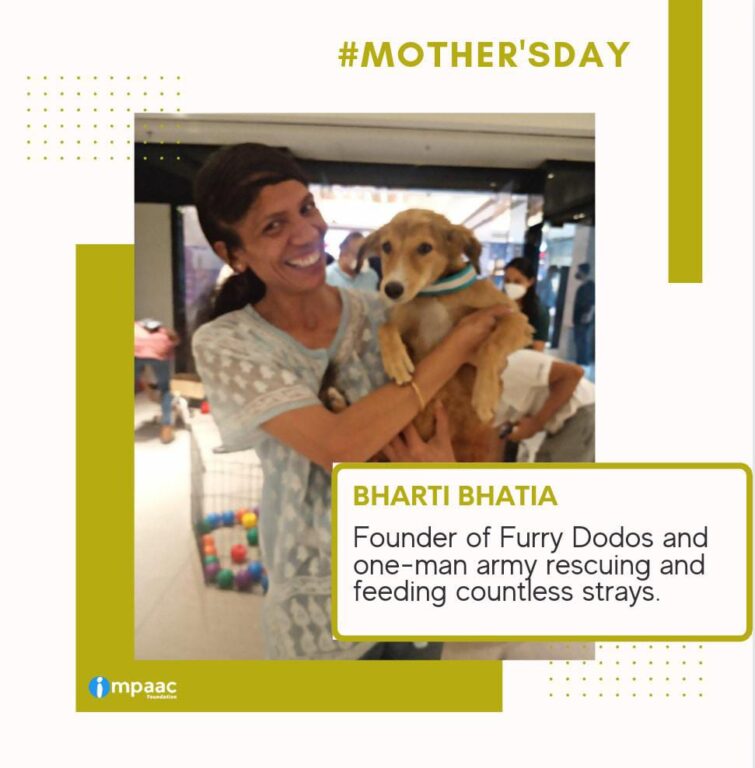 Bharti Bhatia is a single-handed avid animal rescuer from Lucknow, who strives to provide our four-legged friends with proper care, treatment and food required. She is working continuously for the benefit of the dogs and heavily endorses indie dog adoptions. Her inspiration behind Furry Doddos is the first dog she rescued who she named Doddo and helped him recover from tumour. Bharati slowly started rescuing more dogs and nursing them back to health she now has a small family of 50 dogs who she tends to on an everyday basis. She aims to conduct large scale rescue operations, feeding drives, to be able to afford proper treatment, conduct sterilisation drives and put on fluorescent collar belts to prevent accidents. Her motherhood towards these gentle voiceless animals has really touched our hearts and inspired many.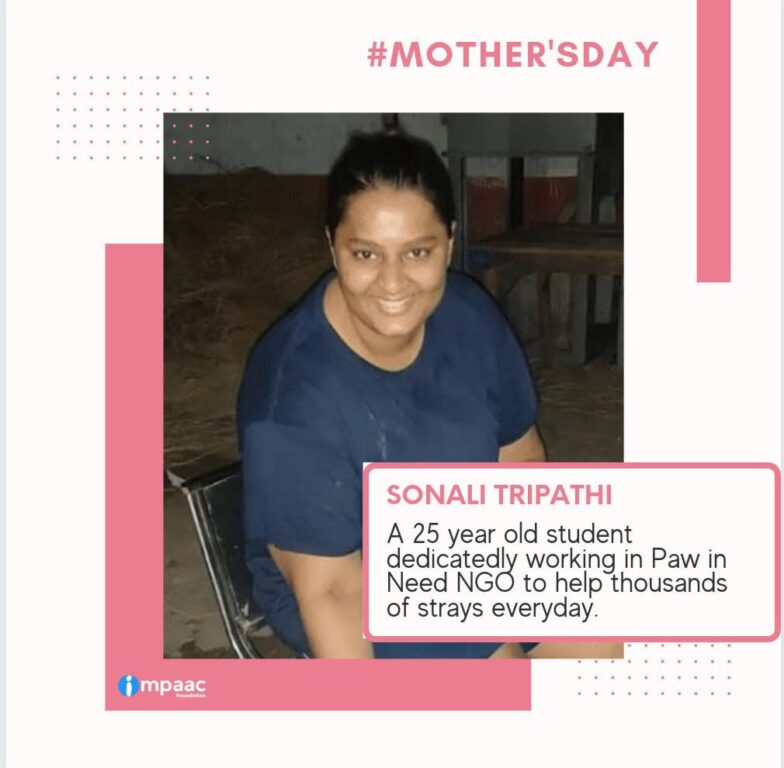 Paw in need is a student led foundation with students below 25 years of age. Sonali Tripathi is the founder who started this initiative in 2015 and has continued to help animals ever since. Their team of 15 works to provide strays with proper home, sanitation, feeding and treatment facilities which is a necessity for them. They feed over 350+ dogs and will continue to do so. The pandemic has been hard for them as many pet owners abandoned their dogs due to the fear of getting infected and food from restaurants and hotels stopped coming in, since then they are heavily dependent on donations from the common people to pay for their needs. Their goal is to build a proper shelter for the voiceless and get many indie dogs adopted. Their zeal and enthusiasm to help the animals is truly commendable at such a young age.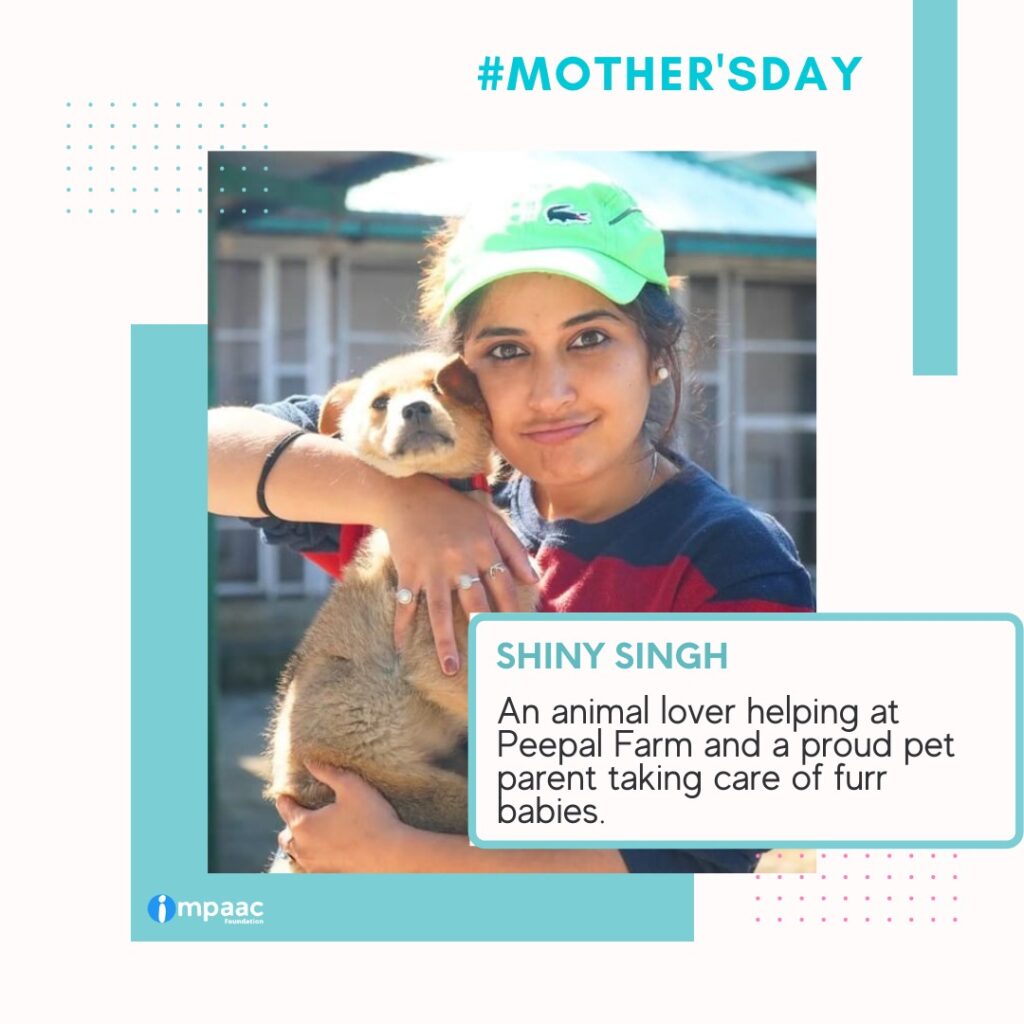 Shiny Singh is a proud mother of many dogs and also a member of Peepal Farm who works dedicatedly to help strays. She is involved in many adoption programmes and tends to pets at her own house and then gives them up for adoption. She is a happily married woman who considers these dogs as her own kids and tends to them at any time of the day. She frequently conducts feeding drives and looks after animals at both her home as well as Peepal Farm.
Trisha Patel is an individual animal rescuer from Gujrat who works for injured and abandoned strays by nursing them back to life and getting them a loving home. She religiously feeds over 240+ dogs daily. Whenever she spots an injured dog, she takes him to the vet to get treated and looks after them during the course of their recovery. The next step is to post adoption calls on social media and find people who can look after these gentle souls like a mother would.
Voiceless animals are always looking around for people who can love and care for them like their mother. These women provided strays a sense of comfort and motherhood, gave them the love and longing they aspired for. Let us all become mothers to the voiceless and make the world a better place.  Impaac salutes these women and to every mother for their insatiable love, care and compassion. Wishing a very Happy Mother's Day to everyone.
About Impaac?
Impaac Foundation is a non-profit, technology-driven crowdfunding, social networking platform which focuses on bridging the gap between the people who are looking for help & the people who are willing to help. We are building a social community that depicts the values of social responsibility & help anyone, anywhere, anytime. We provide viable solutions to NGOs for different causes to run their system smoothly & effectively with non-profit intentions.
Why Us?
Truly NO Charges
Trust Guaranteed
24*7 Assistance
1000% Transparent
Technical Support
Seamless Donations