About Pramiti Foundation's Journey
Kanika Mishra, the founder of Pramiti Foundation, says that she was fortunate enough in having an upbringing where believing in Karma played a major role. Being kind to all living being was not just said but implemented since childhood. While she has seen growing both her parents helping everyone they can they could this is in gene. She has always found herself attracted towards wagging tails and eventually developed love for all animals. A little bit of Nik and nack she started her journey for feeding and aiding animals few days before lockdown during pandemic in 2020.
Started feeding 150+ doggo kids all alone during entire lockdown she has unfortunately always been a single woman army. She thinks the reason of being single work woman is because somewhere she feels she have had a great experience to serve with the years of experience she has covered globally in her profession. PS – no overlooking eye for detail is her style and it never works in local market however , being a strong believer and keeping integrity to the highest she continued to be with doggo kids at the moment feeding 85+ daily fostering special need 7 at the moment ofcourse the numbers decrease rather increase more or less !! 
Conducting mega drive twice or thrice a month where she ended up feeding 100+ doggo kids conducting vaccination drives to deworming drive every second month special festive day drive and so on.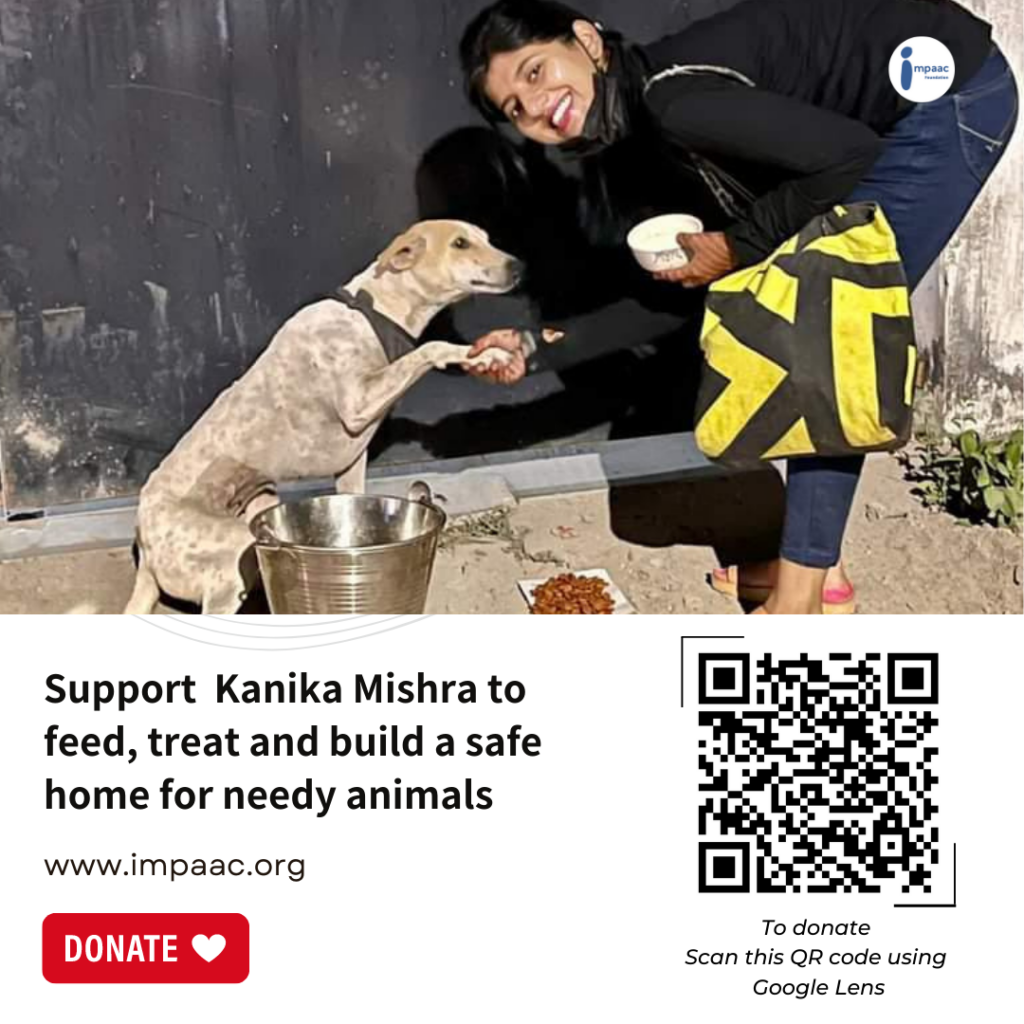 The need to raise fund is important because she was a mum to nearly 85 plus the fosters and the on going cases isn't manageable all alone now. With a vision of doing something for a long run made her realise her sad financial statements as she lost her job during pandemic and couldn't join back in the city as either the pay was too low or she dint find a job. Now her focus is on just one thing make this goodness a lifestyle!! For that she has to get educated a slightly bit more into the stream of animal welfare and that's why she appointed a guy from the mountains called Deepak to help see the kids who she is paying 20000inr 90000inr for the rented space where foster kids and Deepak stay cannot put them in society as we were anyways about to end up in trouble having excessive dogs in flat.
The campaign can help her share the load and so that she can focus more on what's worth focusing wisely.
Can't say about how she can inspire but all stories of her kids are special to her. The journey of her kids with herself is non comparison. The feeling of being with wagging tails has actually helped her recover her depression to a point that she could have done too bad & would have been such a weak person to think of not living. One such beautiful memory is Coco whom she found her while she went to drink Sugarcane juice on a extremely hot afternoon may 2021. Coco was just say 2m/o pup dumped below the molasses and her hand was covered with flies &worms . Throwing the glass in trash she saw that little eye of hope sparkling and then she realized.
And then she realized that it was madam coco underneath those straws of sugarcane. She immediately picked her up and took her right outside the nearest medical store brought a bottle of betadine liquid and cleaned her wound then she took her to the nearest vet who wasn't available as it was some Sunday places were not operational. She took madam coco to my place and did a tentative dressing of her hand as it was releasing such pungent discharge that her room started to have flies . Seems like her wound was rotten already. Next day she took her to another vet who is claimed also to be the one of best where he passed a statement which was too inappropriate for coco's life and she definitely didn't liked it. Well she kept shut let him do his job but she knew she ain't coming back there. Finally that evening after searching a lot on good reliable vet she was recommended to Aastha Pet Clinic to Dr Kuldeep gautum. Her first interaction with him wasn't very low as she clearly mentioned him that don't treat her in a way please that she is from the streets treat her well as I'm a family now. And the kickass response was "Madam meri table me 3rs 300 3000 ya 300000 ka bhi dog hoga" or agar hope hogi to mai treatment karunga. These action lines build in slight confidence. After 45 continuous days of the surgery the back and forth visits to the visit to sleepless nights to mood swings our coco stood on three legs being one of the most naughty doggo in the place now. Though she has a lot of human fear in her but this is again something else she was working on. Her little one is nearly an year now by god's grace healthy and naughty. Coco's case made her feel like a mother the pain the cries the suffer of this little soul made her cry each time wondering why this is happening why that is happening how can she be saved etc . Coco isn't less than her daughter!!
What is Impaac Foundation?
Impaac for a real dynamic Impact! An impact startup passionate about solving global challenges through social entrepreneurship! We here at Impaac serve folks to get aware about the needs of our planet. We holistically cover people, pets, plants, the environment and societal constituents. Our aim is to contribute and take a step ahead for the welfare of the society. Combining technological skills with our social responsibilities is our unique trait. Read More
We are India's most trusted and 1000% transparent crowdfunding platform, with a vision to create a social impact. Impaac Foundation is a non-profit, technology-driven crowdfunding, social networking platform which focuses on bridging the gap between the people who are looking for help & the people who are willing to help. We are building a social community that depicts the values of social responsibility & help anyone, anywhere, anytime. We provide viable solutions to NGOs for different causes to run their system smoothly & effectively with non-profit intentions.
Truly NO Charges
Trust Guaranteed
24*7 Assistance
1000% Transparent
Technical Support
Seamless Donations
You can even donate the amount you spend on pizza. Even a single penny matters! The next time you see any animal in need on the roadside, don't turn away and immediately report to a nearby NGO. Let's together stand & support these selfless beings.