Impaac for a real dynamic Impact! We here at Impaac serve folks to get aware about the needs of our planet. We holistically cover people, pets, plants, environment and the societal constituents. Join in, discover more and make an impact, The Impaac Way!
Nurturing your passion for travelling
Travelling is an art and an exercise for the body, mind and soul. For those, travelling is a hard core passion inside them, the same can be witnessed in their outer surroundings as well. Travelling fills a person with joy, peace and spirituality via the happiness, pleasure and the essence of liveliness that comes along with it. One should never run away if he/she is enthusiastic about travelling may it be solo, a couple one or group travels. One should also never hesitate to make travelling a full time career if he/she is really passionate about the same, want to explore and witness the beauty and magic of our Earth and live like a wanderer. It is truly said that during one's travelling trip, one should be less focused on the destination and enjoy the journey to the fullest. One such brilliant example is Saroj Kumar Sahu whose inspiring story, his humbleness and his dedication for his work and his passion for travelling will make you go awe. Fasten your seatbelts as we take you through the life journey of Saroj Sahu as he answers some of our very interesting questions. Here you go!
Featuring Saroj Sahu -'THE SUSTAINABLE TRAVELLER'
To introduce him, Saroj Kumar Sahu is an alumni of Pondicherry University in the field of Mass communication and media studies. He has worked as an media intern, freelance video producer and visual media editor with Pro Sport Development. He's currently working as a freelance covering the domains of photography, video editing and cinematography. His other skill sets include microsoft office, videography, video production, strategic planning, microsoft powerpoint, sports photography, animal rescue and he's exceptional in snake handling as well. He runs a YouTube channel named Saroj Sahu where he uploads few of his trip videos. His documentaries are also featured on Anantapur Sports Academy's YouTube channel. He is being titled as the Sustainable traveller because of his firm belief and work in developing eco-friendly ways to travel. Some of the questions we asked in an interview with this humble personality are stated below.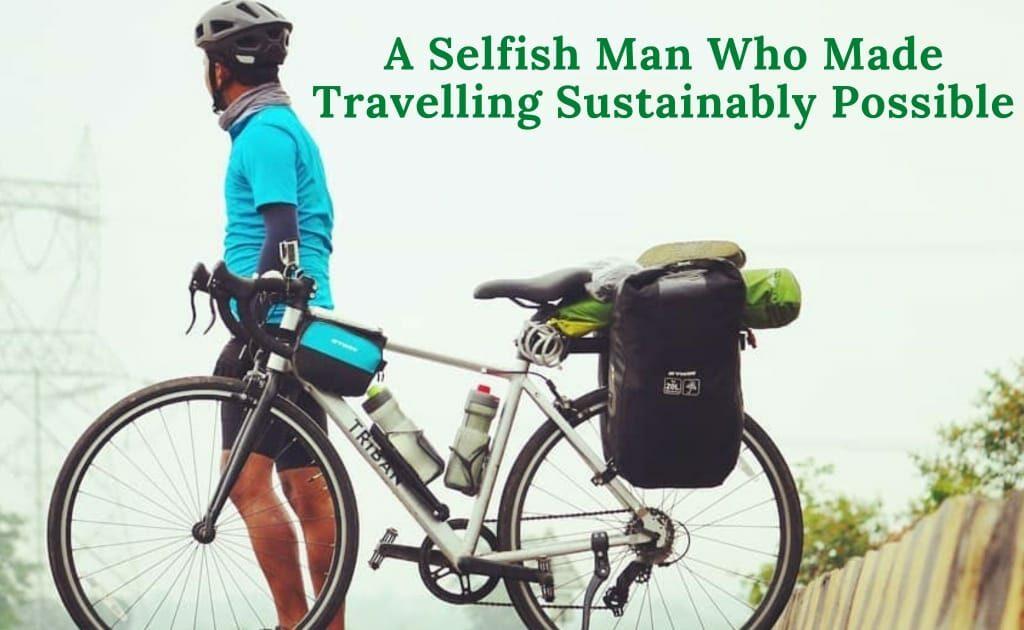 1) From where did his love for travel emerged? What is his purpose along the way?
Saroj Sahu's origin is from Orissa where he was located amongst the wildlife and the natural surroundings. In his childhood, he used to travel via local trains and his school life was also filled with enhancing his desire to travel. He aims to be a constant learner with respective to the surroundings, different types of cultures and traditions while travelling. He goes on with a purpose to learn about various kinds of new people, meet and gain knowledge about them.
2) How does he manage his travel along with making documentaries?
When you have a passion, you do not hesitate in putting whatever hard work and efforts it takes. That's the story of Saroj Sahu. He considers shooting, filming documentaries and his solo trip videos so extreme fun and an excellent learning experience to enhance the skills along with his travel journeys. He tries to take as many as shots possible i  his free time during travelling. Moreover, his own chosen freelancing career gives him much more freedom to live life on his own terms as compared to working for a company.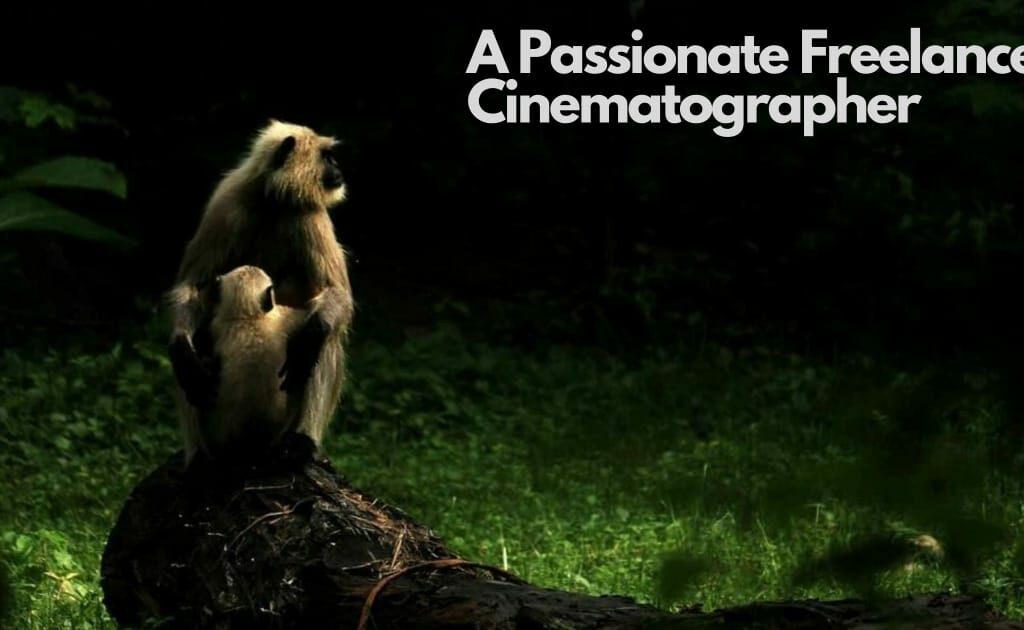 3) What is his idea about Sustainable Travelling and carbon footprints?
When he actually came across the idea of sustainability while his travels, he realized there is so much unnecessary pollution happening which is unnoticeable for us humans. Biking in Leh Ladakh and spending island time in Andaman, he noticed people littering plastic all over which wasn't justified at any cost. He says that nature is our and we should carefully use the resources whatever and whenever needed but keeping in mind that we do not have the right to spoil them or cause any kind of harm. He explains this with examples revolving around giving food to the fishes while fishing and using woods obtained from trees to a limited and required extent. One should wisely think about the future generations and their needs as well. Use as much as less carbon in vehicles as possible via using bicycles and on foot methods. Start with changing and mending your ways and you shall lead to changing the world around. 
4) Why does he think people should follow this idea and promote it? How can we make people aware and contribute in the same?
Sustainable development is not a thing which has arrived now, but it's a thing which is being followed from a long time especially in Indian villages. There's so much to learn from our forefathers' deeds. Nowadays, social media has the power to spread the idea of this noble cause. According to him, even if people has the desire to contribute in this regard, they are unfamiliar with the required platform and ways to contribute in this. Do not wait for anybody else to join you, be selfish and start with yourself. Take a step forward as he did because he was genuinely focused and cared for his environment. Consider this very seriously and contribute your bit for the welfare of our beloved nature.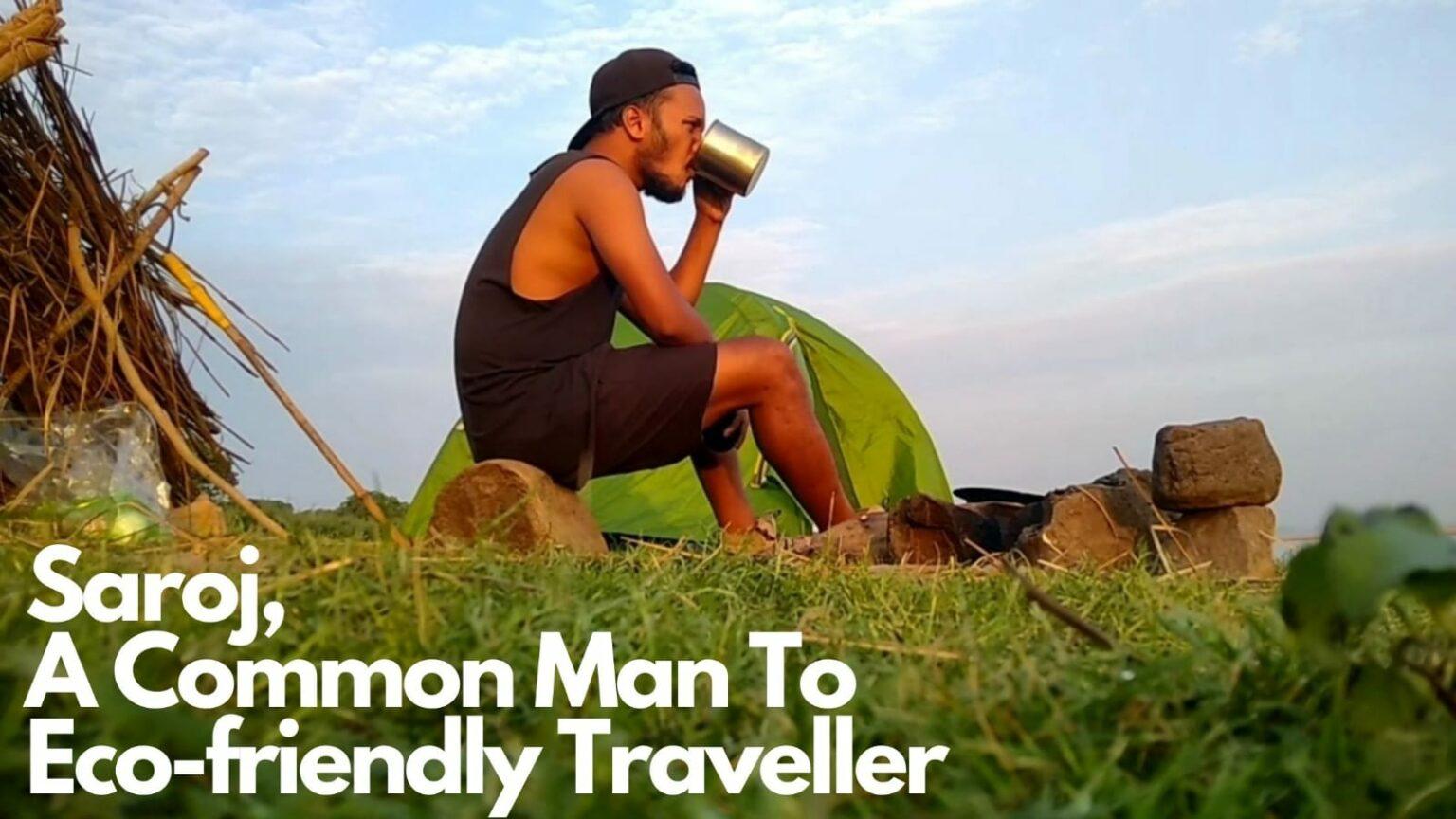 5) How does he actually practice this concept while travelling?
There aren't any fixed rules for the same. First of all, he takes care of the carbon footprints. According to the travel ranges, he uses bicycle and local transport to travel from one place to another. He always carries an extra bag with himself for non-biodegradable wrappers of chocolate, maggi etc in hill stations to avoid throwing at random places and littering the place. He believes in separating out the dry and wet waste. He says that wherever we go, it is our duty to maintain the hygiene of the particular place.
6) Can anyone and everyone follow sustainability?
It is not at all a rocket science. It is quite simple and a culmination of small pratices. Avoid littering the place with unnecessary garbage. Help the local businesses especially which are run by women in the areas. People travel for happiness, peace, learnings while coming out of their comfort zones, so why to spoil the nature and hygiene of the place. People are so much lost in their the comforts of their luxurious life that they are behaving inhumanely with the nature. Whereas on the other hand, nature lovers like him are the people who redefine the meaning of sustainability in today's era. He also narrates a beautiful story of respect which is given to snakes in villages. People in villages believe that they themselves are guests and the owner of the habitat is the snake. Therefore, the snakes are not at all killed by the villagers but are separated a bit from their homes into the jungles. If schools take the initiatives to teach the children about the concept and importance of sustainability, then only it will come naturally to the individuals and they'll take interests in the same from childhood itself. He himself was born and brought up in the place surrounded by wildlife, plants and trees, therefore the spirit of sustainability was instilled in him from the beginning of his journey in life.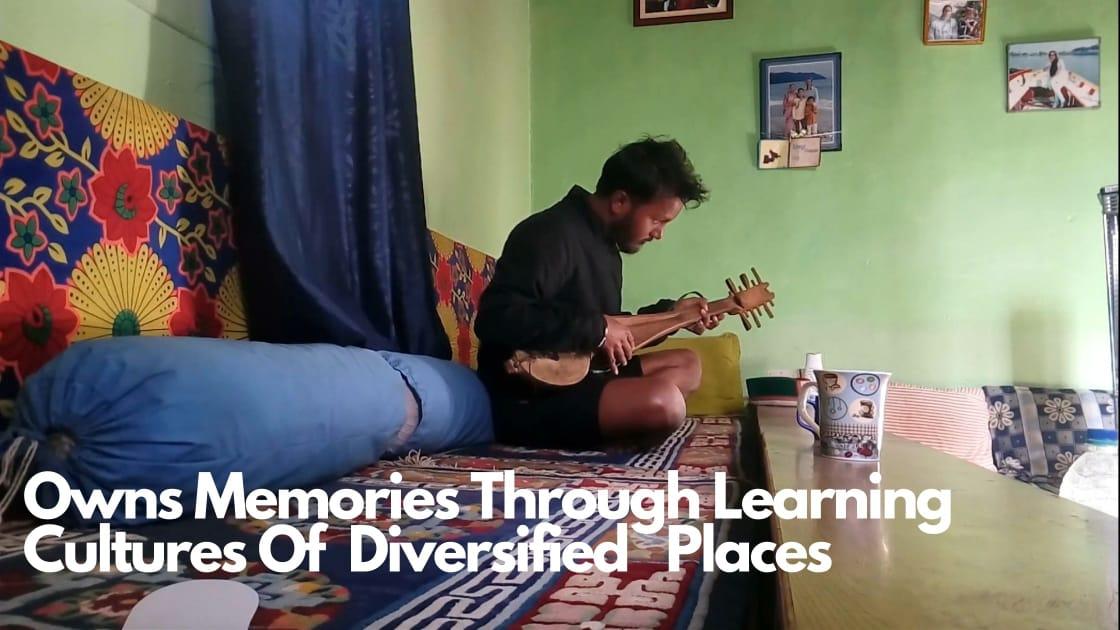 7) What are the challenges and obstacles that come in the way of his solo travelling, hiking, camping etc. especially adhering to the formula of sustainability?
He made this idea very clear throughout that he always travels to learn and explore new things. Initially, when one travels, problems related to language and adapting to the people's culture and traditions might emerge but subsequently as one manages to spend time there and be friends with the people, the job is quite easier then. It takes time to understand and mix with them, but the wait is worth it. People take time to trust the strangers comparing constantly with their past experiences, but in often times, they treat us well with good food and place to live in. He says that we go to other person's place and use their resources. therefore it is our duty to not spoil them and use them wisely. Eventually, everything takes shape.
8) How he considers the opportunity of travelling as a full time career?
If one wants to take travelling as a full time career. it comes with its own pros and cons. If one wants to be on road all the time, it do takes a lot of compromises. It is not right to follow somebody else but doing it according to your lifestyle and interests do the job. If one is enjoying to the fullest via travelling and actually wants to make it a career, go ahead without any doubts. Money does not matter at all. At the end of the day, what matters is one's passion and zeal to do.
9) What advice and suggestions would he like to give based on following the eco-friendly route in order to enhance sustainability?
As a human being, if we really want to contribute our bit towards the environment and leave good and quality amount of resources for our future generations, sustainability is the only option. By the way, it is not a choice, not an option but a mandatory practice to be followed. Respect the nature, don't think about yourself alone but think about the environment. Read daily what the youngsters are doing in terms of cleaning the waste and inspire more people in this regard. He also talked about the culture of planting a tree after the wedding in villages. Encourage people to plant more trees while will increase the oxygen levels as well. Small things matter so much. Back of the mind, people know these things but laziness takes over them. Therefore, eliminating the wrong practices, they need to be self awared and check upon themselves.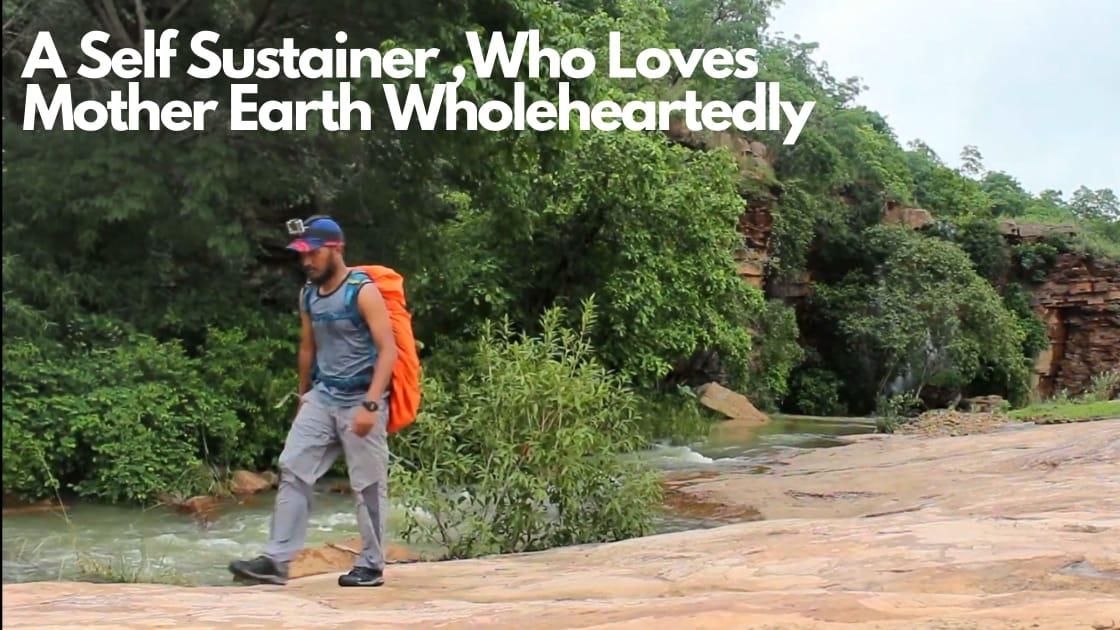 SOME SHORT QUICK QnA with Saroj-
1) What's the best memory in your travelling so far? Which place is your most favourite destination?
Every travel memory is special to him because he learns a variety of new things. His perspective of sustainability of environment took shape when he was on an island in Andaman.
2) Which is the main critical situational problem he faced while travelling?
While he was alone on the islands of Andaman, he observed plastic littered all over the place. And in the next 20 years, the groundwater levels will decline probably. The soil is polluted badly, affecting agriculture and leading to non survival of the species there.
3) Especially for minimalistic and eco-friendly travel, What are the things you pack?
Accordingly, he depends on the local markets and materials available. The availability of materials in local villages do the thing for him. Instead of everytime buying the plastic water bottle, he carries a water bottle with himself. Sometimes, This proves to be economical for both and he plans for different travels accordingly.
4) What are the sources he use to choose the destinations?
He believes that instead of him choosing the destination, it's the reverse. The destination chooses him. Nowadays, he spends most of his time in Chattisgarh understanding the agricultural methods followed there. In short, he travels to learn something new everytime on which he focusses the most based on learning the languages, traditions and cultures of the place.
5) Share some tips and suggestions for people who are relatable with you for sustainable eco-friendly travel?
Instead of going to the well known destinations, choose your own new destination. It's ok if very less people go there, look for the diversity and gather learnings.
Saroj Sahu is a Selfish Person. Yes, You read this right! He is selfish in desire to make himself work for the environment. He himself chooses to be humble and eco-friendly. Even living the urban lifestyle, he is dedicated and find ways to go sustainable and reduce carbon footprints. He avoids taking cabs and cycle most of the time. He went all the way from Delhi to Odisha by solo cycling which is 1402 km and it took him 8 days for the same which is remarkable. May be he can't change everybody but he starts with himself. He enjoys this at the same time, he sees the world taking appropriate measures due to his love for mother nature.  People should follow his steps, get inspired and serve the environment. Let's all come together and give our bit to make sure the welfare of the mother nature as:-