Impaac wishes all the women who adorn our planet a very Happy Women's Day. It fills us with gratitude and makes us proud of the height women are achieving in our country and internationally and it is practically impossible to celebrate womanhood on a single day or even a week. Womanhood is all about women in their truest and most original forms and making us aware that a woman who Is capable of taking care of our household is also the one who can take care of the planet. This year's women's day agenda is "gender equality today for a sustainable tomorrow" and calls for climate action for women, by women.
On women's day we present to you the list of the wonderful ladies who inspire us to become a better version of ourselves and take extreme care of the planet and its gentle beings. We have also made a special video dedicated to all these Sheroes.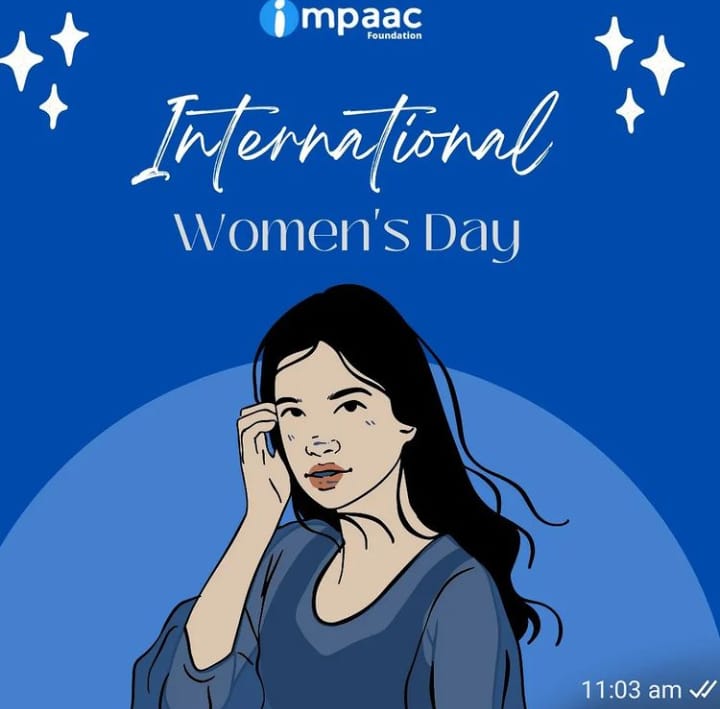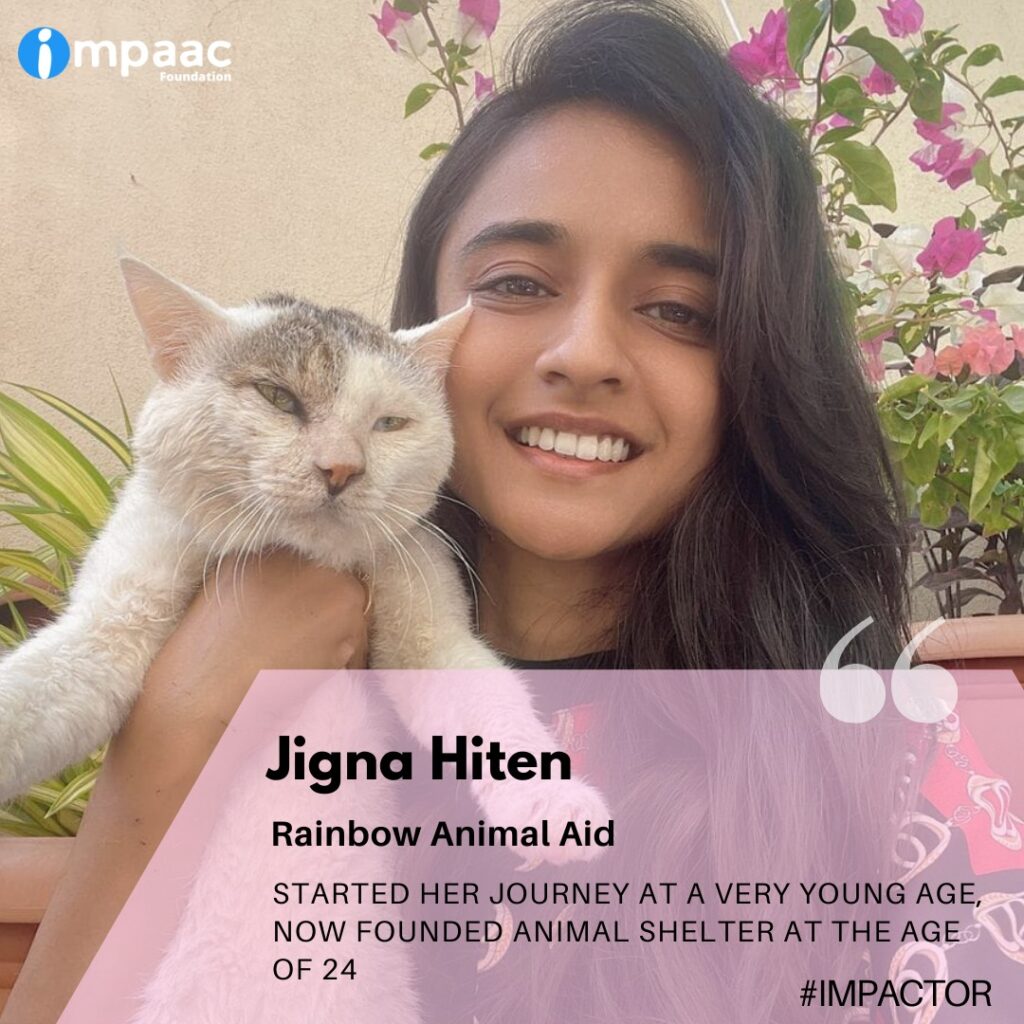 Jigna is one of our pet parents who have taken extreme and care and displayed motherly love and affection for the strays. At the age of 24, she is already much humane than many and has devoted her life to the well being of the strays. She started at a very young age in Diu and is self funded as well as they run on donations. She has about 40 cats and 4 dogs in her family and many more in the shelters. The story of the young mother shows us the level of love and compassion present in women from a very young age.
Garima is a Dehradun-based woman who is a passionate lady who aims to help the needy souls in their treatment, rescue and stops at nothing until they find a loving home for these animals. She operates singlehandedly and posts about the strays she has rescued, their bills, and regular adoption calls. We strive to support her in the selfless work she is imparting to society and bring her story to light.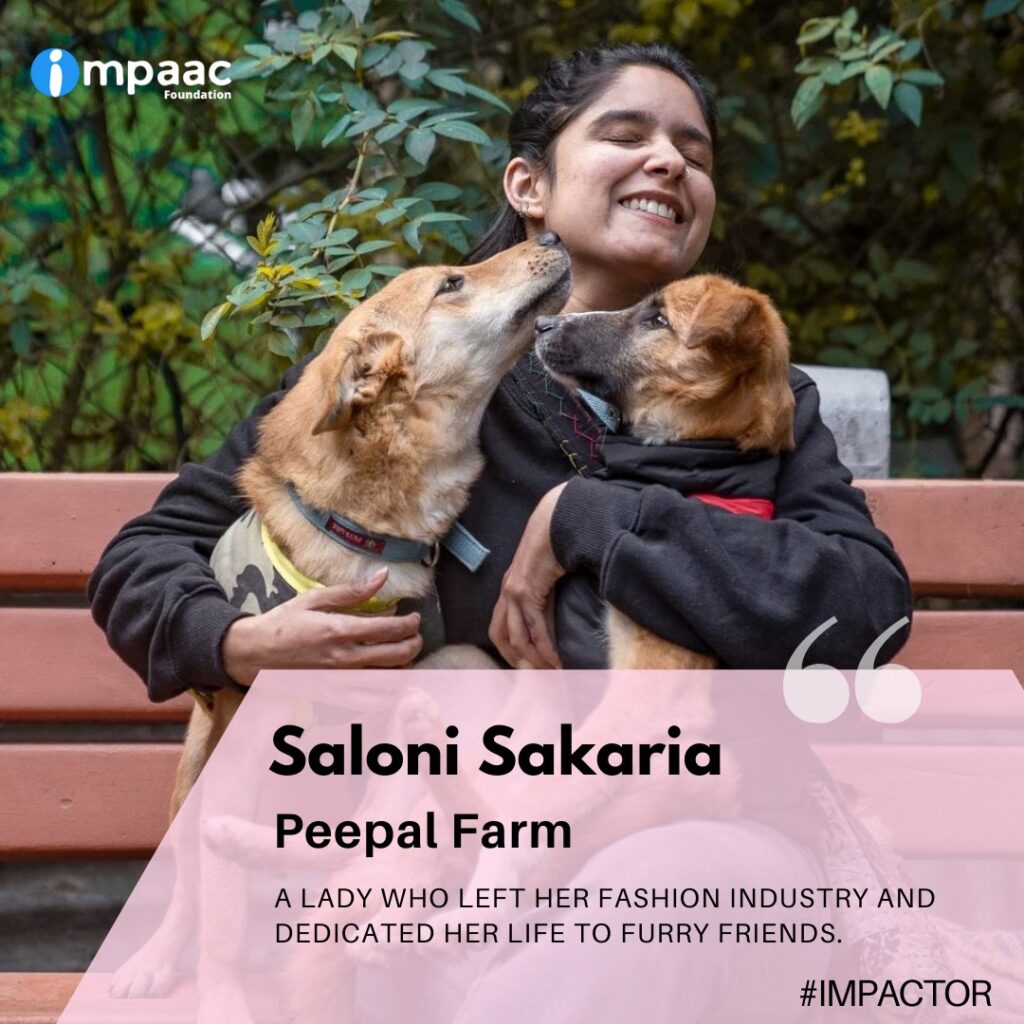 Saloni Sakaria was not always into rescuing animals, she was very successful in life and owned a fashion brand that let her showcase her talent to the world by being a part of major events like Lakme Fashion Week and Amazon India Fashion Week. She thought that she was doing her bit by going vegan but the pandemic gave her time to introspect as she shut her business down and completely devoted herself towards animals by enrolling in peepal farm an animal rescue organisation. And from that point on there was no looking back for Saloni, as she still continues to be the wonderful and powerful woman she is.
The story of miss Haroop Singh from Kullu is of her love, compassion and devotion towards the strays. She has rescued and taken responsibity of over 70-80 strays that now reside with her. However, her neibours were not so compassionate before evicting her from her flat due to the noises from her dogs. Now she is on a lookout for a shelter to provide for a safe haven for her dogs. Miss Singh who works as a banker has constantly being spending out of her own pocket to feed these munchkins while also providing for their comforts. We adore her efforts and dedication to be a mother figure for the adorable beings.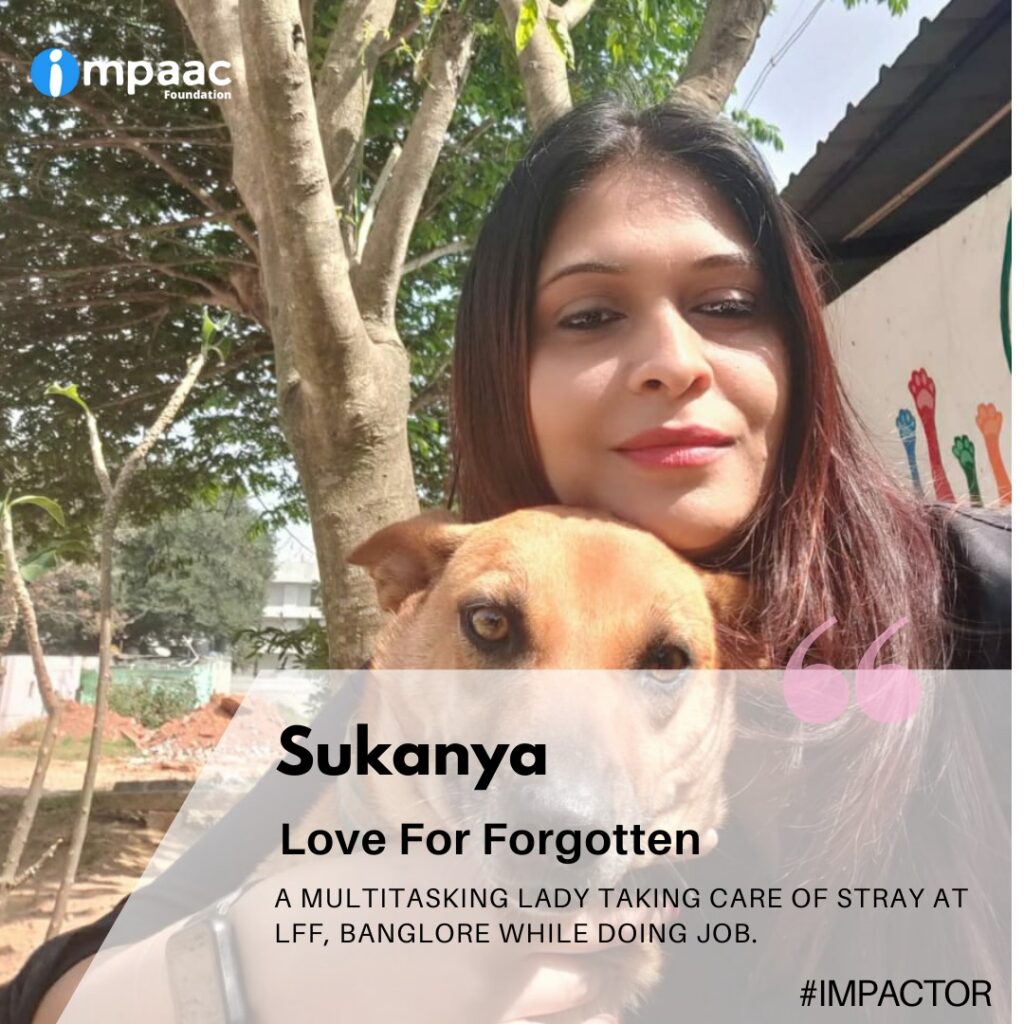 Sukanya is one strong willed compassionate woman with a hope to make Bangalore a safe haven for animals. She had always been very compassionate towards them from a young age and her caring nature comes from her aunt who used to even feed an ant thinking about the little one's hunger. Sukanya wanted to open a shelter ever since she was studying and her dream came true when LFF (Love For Forgotten) was founded in 2017. Since then she has rescued and gotten many innocent souls a place to feel loved.
Love shade for animals is an Allahabad-based small foundation started by Neha. She is a civil service aspirant and is a non-earning student at this point however, that never stopped her from becoming an inspiration for us. She used to pay for the stray's necessities from her pocket but things got tough as she kept admitting new strays in the shelter that lead to the immense need for necessities. She is going strong with the help of donations from very kind people and her two helper bhaiyas.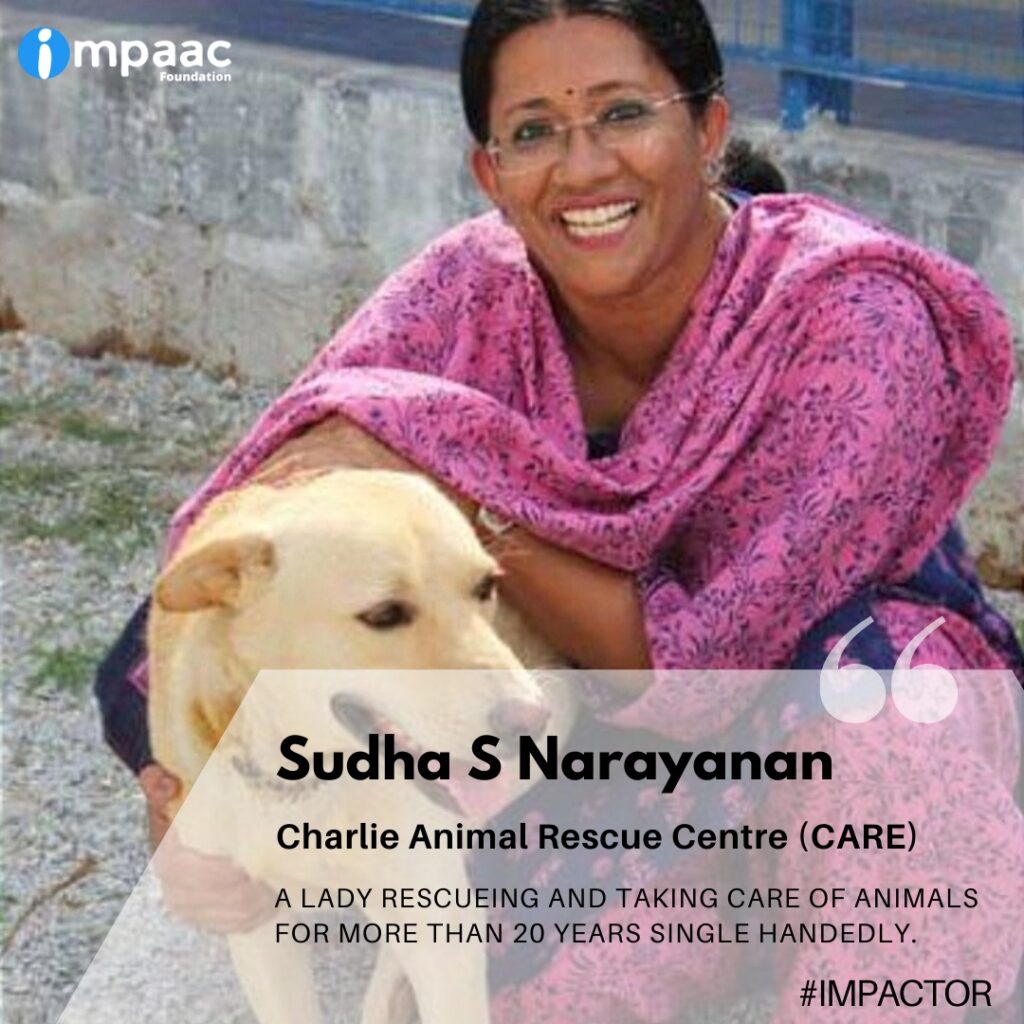 Sudha Ji is a veteran animal worker who has established the CARE (Charles Animal Rescue Centre) that has been named after her three legged dog Charles. Charles was an accident victim when he was a pup and suffered severe damage however, due to Sudha Ji's care and love he is a growing boy now. She tries to juggle between her job as a income tax officer and as a pet parent and beautifully fulfils the responsibilities of both. Her shelter provides accommodation, love and care to all kinds of animals and she sustains cause of donations, private funding and free supplies and surgeries from people. We love her to keep working for these deprieved animals even in her old age.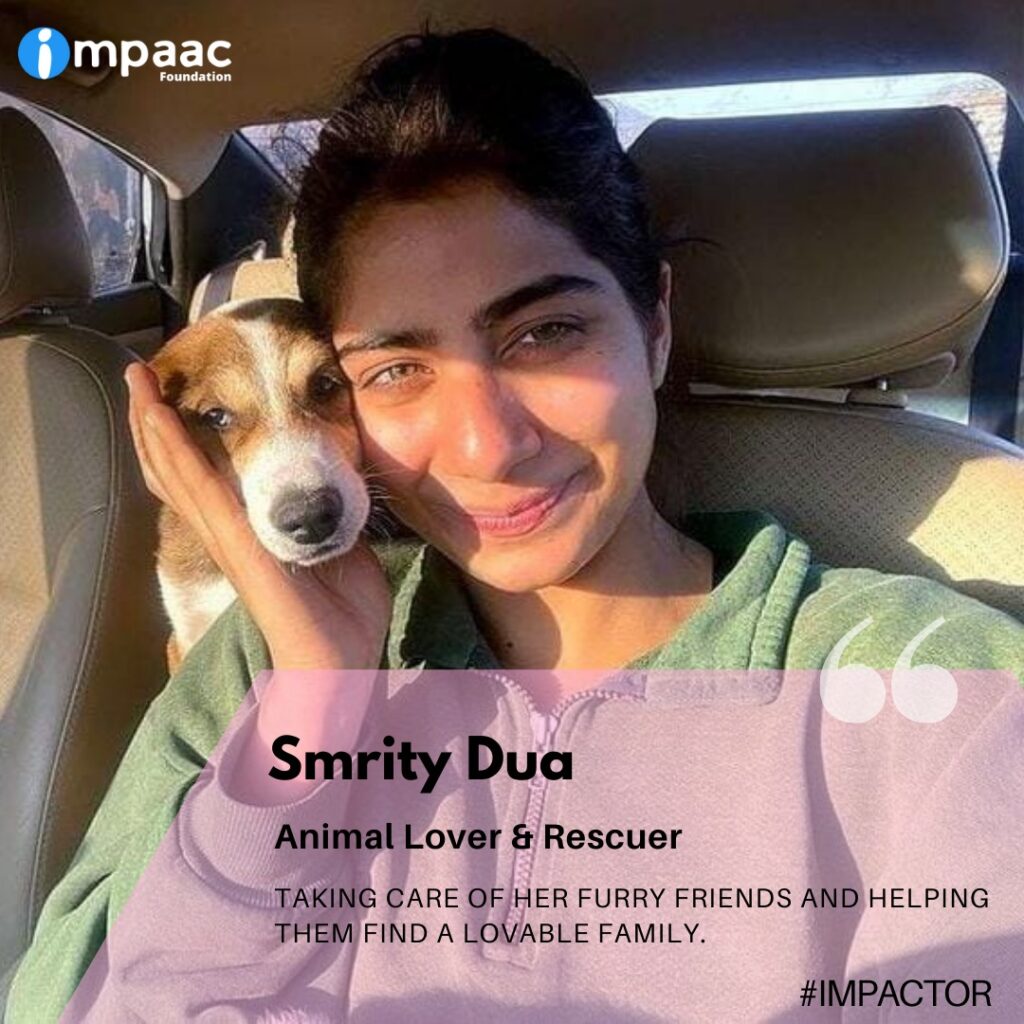 Smrity has worked and absolutely gone out of her way to provide for these strays. She runs an animal shelter named Sukoon aimed at protecting injured or abandoned animals and with hopes of finding them new homes. She works relentlessly to rescue and save not just dogs but many other animals as well. Smrity's love towards animals might have definitely sparked an ember of compassion in you and we hope you come forward for this noble cause.
We salute all of these wonderfully amazing women who have devoted themselves to the well being of the animals in spite of the many difficulties that they face in this endeavour. Their love for animals has kept them going forward and the donations from all the compassionate people has kept them growing and helping on in life.
Nivedika has always helped strays and took utmost care of the planet with travelling as her hobby she never fails to help strays even when on challenging excursions. Although she was on the peak of her career she chose to help strays, planet and the humans by establishing Impaac. Impaac now has changed many lives by being a bridge from the donor to the victim and continues to do so in hopes of a better planet.
Impaac celebrates womanhood and every woman present in the lives that make our lives full of happiness and positivity and inspire us to be just like them – our role models. 
You can now visit their social media accounts and give your time and attention to the wonderful work carried out by these women. Do comment and tell us which shero inspires you to be the best version of yourself