This year's UN agenda for women's day is climate change for women and by women. Many couldn't get how climate change really affected women and so we are here to let you in on how and why climate change affects women and what our women environmentalists are doing to combat this drastic climate change. Women's vulnerability during climate change can be summed up in three major points- social, economic, and cultural barriers. They seem to have less access to resources and constitute the majority of the world's poor. They are highly dependent on natural resources and do labour-intensive and time-consuming tasks like subsistence farming, horticulture, poultry, livestock raising, etc.
Even though women have always been represented as the weaker section of the society and deemed incapable to make decisions they contribute heavily to any country's resources and help in the management of its reins very well. Women have always been very observant and can help in the proper management of resources, the information passed down from their elders also help in their decision-making capabilities. This sums up why and how women can provide solutions to the ever-increasing climate problems. Below we have curated a list of some of the most notable women environmentalists: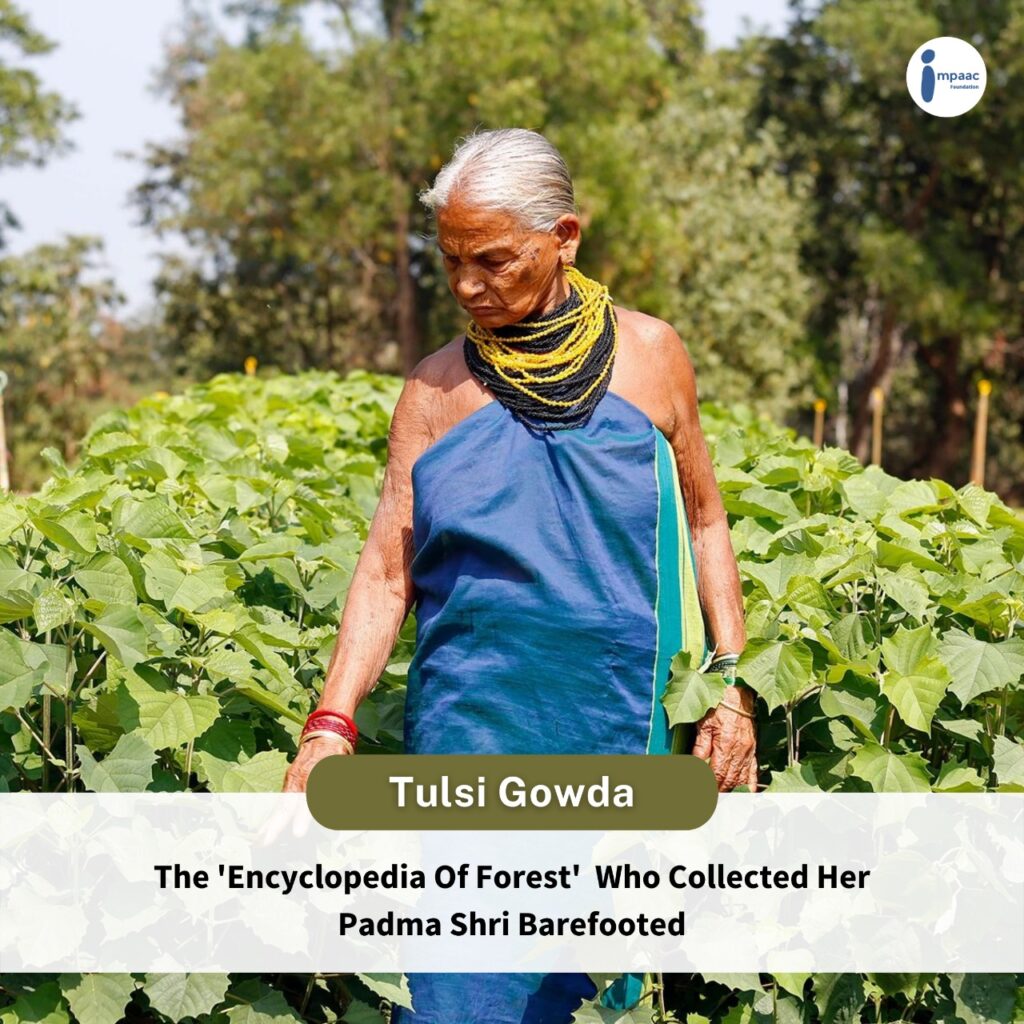 Even after being awarded the Padma Shree the humble Tulsi Ji still says her beloved 30,000 plants are more precious to her. Her life is nothing short of an inspiration to us, she was always an environmentalist and would plant saplings in her nursery her plant collection consists of some very rare herbs like Terminalia elliptica, Honne, etc. Tulsi Ji is known as the "encyclopedia of the forest" due to her vast knowledge about the same, though she has retired she still goes to her nursery to plant rare saplings that she finds on her way.
Sumaira Abdulali is an environmental activist who is more notably known for her work against noise pollution and sand mining. She is the founder of the NGO Awaaz which signifies noise in Hindi. She is also significant in setting activist protection calls to the government so that her peers can work freely without intervention from the underworld. Bal Thackrey used to call her the "awaaz lady".
Norma was born in a catholic family and is married to Claude Alvares and currently lives in Goa. She had filed more than 100 PILs (Public Interest Litigations) to help save dunes in goa, she played a major role in stopping mining activities and is instrumental in stopping the DuPont factory from establishing its base in Goa.
Saalumarada Thimmikka is a noted environmentalist who is instrumental in planting banyan trees along the long stretch of highway between Hulikal and kudur. She and her husband were childless for a long time and started considering the little saplings as their kids and started nurturing them. She is also working on other projects that aid in environmental protection and preservation and wants to construct a hospital in memory of her late husband.
Sunita Narain is a writer and environmentalist mainly notable for her work in water conservation and management. She wrote a book titled 'making water everybody's business, this led to her using water harvesting and diverting waste away from water bodies. Narain advocated building not just holes but assets in the ground that can be used for water harvesting. She has been awarded the Padma Shree and other notable awards for her work.
She is an environmentalist, ecologist, activist, and author of numerous books, she is mainly recognized for her work in standing against genetic engineering and she was also part of the famous Chipko movement. Shiva Ji has organized multiple movements around the world against genetically engineered crops and has helped farmers understand the harmful effects of the same.
Amla Ji was born in a wealthy family however, that never stopped her from noticing the sufferings of the poor and getting on the ground level to help them. She has been instrumental in constructing 350 check dams for the poorer sections of society in many villages. This has helped farmers in cultivating more than 3 crops a year and has helped solve water woes in these villages.
Kinkri Devi ji was a prime example of how people can move boulders just by their determination and will. She witnessed the harm caused due to quarrying on the environment leading her to a long legal battle with the officials. Despite being uneducated she was one of the prime forces against quarrying who educated the masses and filed a PIL in court. This step led to a government imposing a ban on quarrying and giving Kinkri Devi international recognization.
Archana Soreng is an environmental activist who has been spreading awareness against environmental ills. She is one of the seven chosen members of the UN secretary general's youth advisory group on climate change. She provides fearless opinions on international forums regarding climate change and her solutions on how to reverse its effects.
Basanti Devi was presented with the Nari Shakti Award for her tumultuous efforts to conserve their natural wealth by spreading awareness and convincing the villagers to support mother earth just like how she supports us. She along with the villagers met with timber companies and made a deal to cease to cut wood. She also helped in conserving water and organized communities in her village to help look after their natural resources.
Impaac wishes these women a very Happy Women's Week and wishes them the best in their future endeavours. Just a day is not enough nor is a week so let us pledge to help, support, and motivate women every day of our lives. Let us celebrate her achievements and we bring a hopeful end to this year's women's day by congratulating all these formidable women environmentalists. Help Impaac in supporting the women of our country by liking and sharing this post with your loved ones. Do add a comment about what you would like to see next on our blog.
Help us by donating to one of the many campaigns that we have on our official website and become a Shero.